STREET LIGHTING HEVERLEE
Public Space
This residential cobblestone road on the edge of the forest of Heverlee near Louvain, is not likely to be on your route. Better take the E40 highway or N251 express road, for example, which are simply faster when travelling by car from A to B in Belgium. 
The lighting needs of a highway, a main road and an alley also differ greatly from one another.
In this static avenue, for instance, ECO RAYS TP luminaires have been shining since last summer. From a height just below the treetops, they illuminate the street and sidewalk in a warm-white glow every evening. This residential lighting fixture is used worldwide in similar avenues, city centres and parks.
The luminaires were specifically produced with an asymmetrical lighting beam. This so-called 'optic' ensures that the lighting beam radiates mainly towards the road so that no lighting rays enter the nearby gardens or nature. 
In short; characterful pole top lighting fixtures with specifically chosen optics and state-of-the-art LED technology.
The project was carried out with AEC luminaires.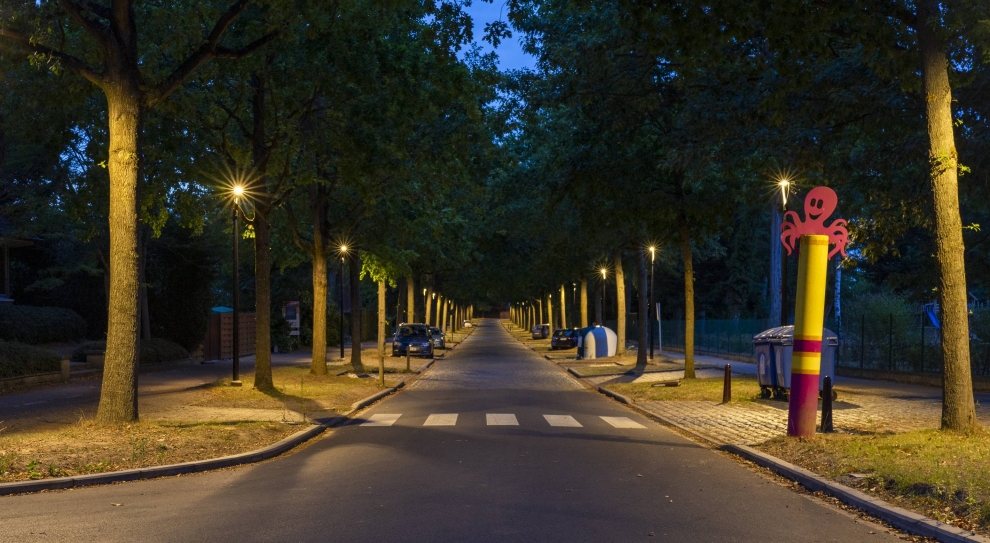 Heverlee, 2022
Lighting design: Fosfari bv
Photography: Amaranta F. 
Sources: In house
Back to overview